Khopra Danda Ridge - excellent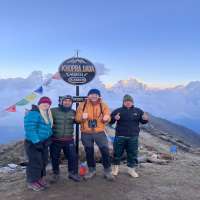 Had a great trip with Ram to Khopra Danda Ridge. Great trekking through different forest types, passing small farms off the beaten track. Then up to the Ridge (3600m) looking across at the Annapurna range. Unfortunately snow was too deep to enable us to get up to lake at 4600m but Ram reorganised and we detoured down to a beautiful little village called Paudwer.

Fantastic experience and very well organised. Would definitely go with Himalaya Hub Adventure again. Puru answered all my queries very quickly and shuttled us to and from the airport.